ENRICH in the USA Announces Winners of SXSW Online 2021 Funding Summit
Press Release
Highlights European Startups with Cutting-Edge Technology Across Three Categories
AUSTIN, TX, March 26, 2021 – ENRICH in the USA is pleased to announce the winners of the SXSW Online Funding Summit pitch competition.
A total of 24 global startups participated following a strict selection process.
The featured pitch categories included TechforEntertainment; TechforHealth/Tech for Good; and TechforCity/TechforBiz.
The winners (first places) in each category received US$500. The top three companies in each category also received access to transatlantic support and soft-landing services including direct applications to the ENRICH in the USA joint programs at leading universities. These universities include George Mason University (VA); Temple University (PA); Cal Poly University (CA); Purdue University (IN).
TechforEntertainment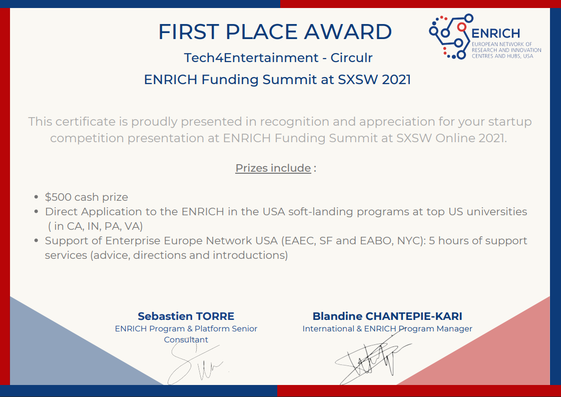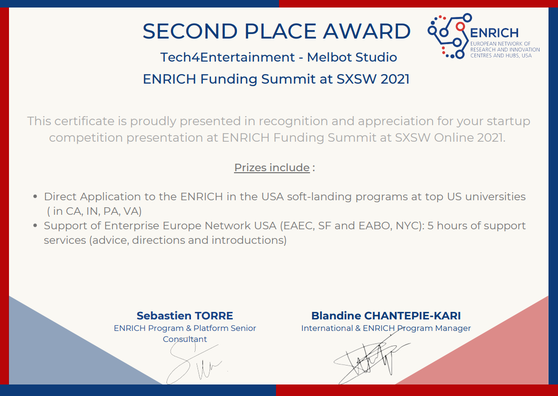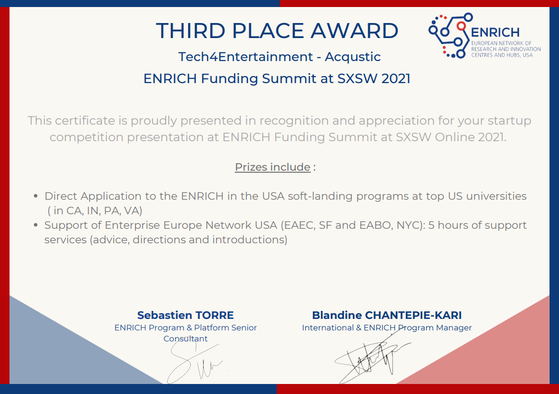 TechforHealth/TechforGood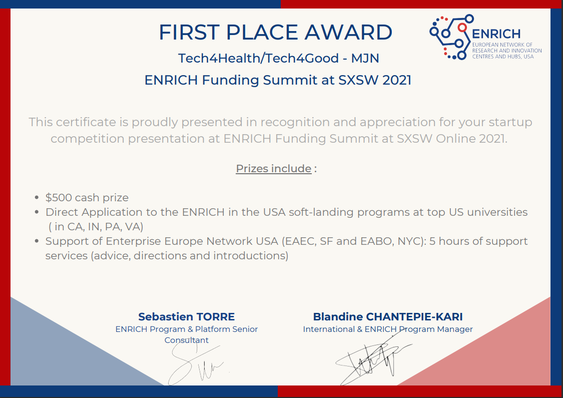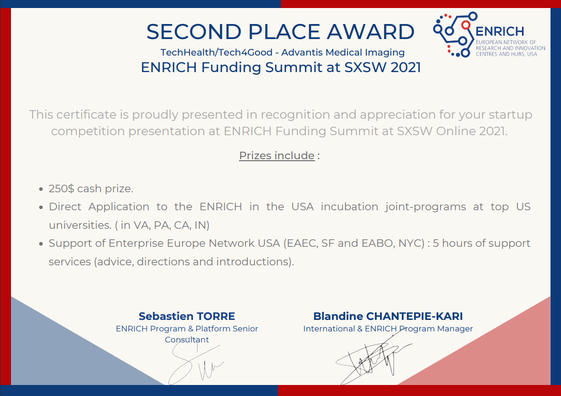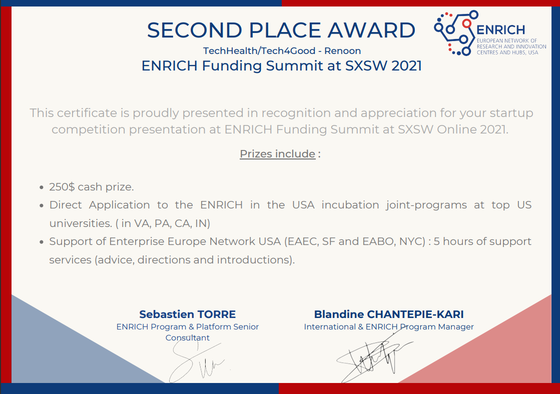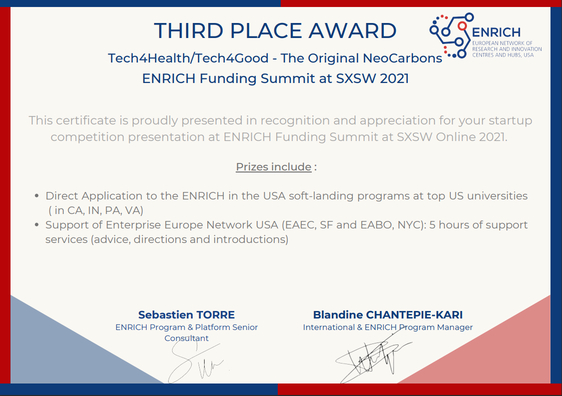 TechforCity/TechforBiz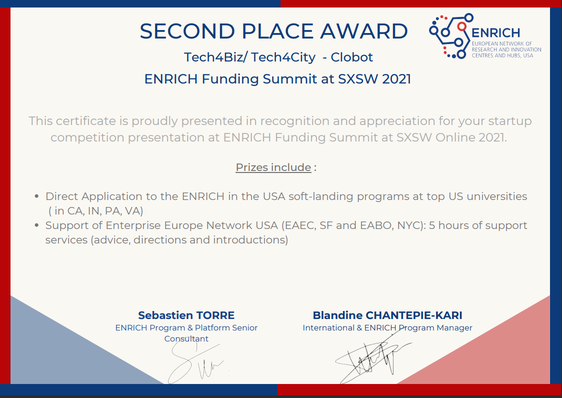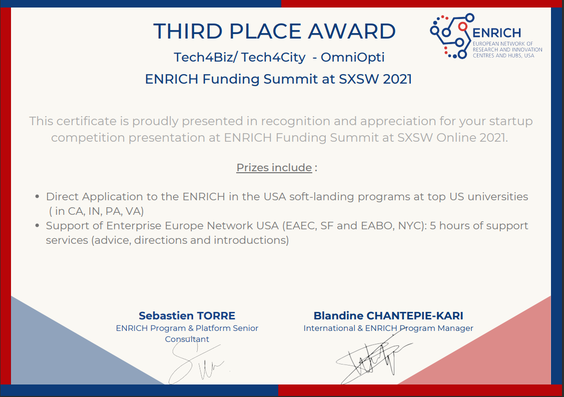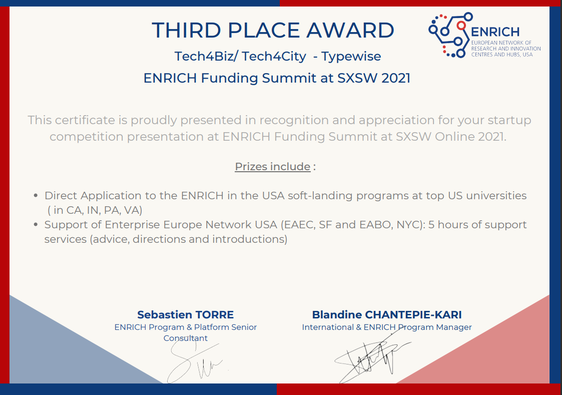 "We are excited to recognize and celebrate again this unique online format; the selected high growth startups from Europe (and associated countries) evoke positive change through their technologies amid COVID-19; and they all want to be connected with the US tech ecosystems and investment communities," said Sebastien Torre, Director of San Francisco-based ENRICH in the USA Center. "I also want to thank Invest EU, Enterprise Europe Network, ACCIO, Dutch Wave, Green & Spiegel and Angel Launch for their great support and partnership. See you at our next virtual ENRICH in the USA Funding Summit at BIO 2021!"
The speakers and judges (30) were well-known investors (from angel networks, early-stage venture capital firms, R1 university incubators and accelerators), as well as city, state and US/EU government representatives.
"It was a pleasure to hear from such a wide array of startups, each with promising businesses," said Dr. Gregory Pogue, Executive Deputy Director IC2, University of Texas at Austin. "ENRICH provided an essential forum for startup founders to receive feedback on their fit and strategy as they consider internationalization. Markets, market practice and sales strategies differ based on national and local policy and practice. Giving startup leaders a free "taste" of the challenges as well as the opportunities allows them to make plans and take next steps with wisdom as well as enthusiasm."
"Visibility into new innovations outside one's immediate neighborhood is key to making successful early-stage investments--and the opportunity to speak with leading startups from Europe about their potential in the US is something that we always look forward to at each SXSW," said Elizabeth Jennings, Board of Directors, SWAN Impact Network and Principal, Venture Atlas Labs. "ENRICH adapted this year's programming to encompass multiple US ecosystems and sectors with virtual pitches in a way that didn't sacrifice meaningful connections. As a window into some of the most exciting technologies out of Europe, this sort of event is key for any active angel investor interested in furthering productive international bridges."
About ENRICH in the USA
Launched in April 2017, the mission of ENRICH (European Network of Research Innovation Centres and Hubs) in the USA (ENRICH in the USA) is to provide collaboration and commercialization support services to European researchers and innovators (from the EU and associated countries), and facilitate their access to university centric soft landing ecosystems, to maximize their chances of success in the United States.
Promoted by the European Commission through Horizon, the ENRICH  network currently offers services to connect European research, technology, and business organizations with five global frontrunner markets for innovation & digital transformation: USA, China, Brazil, India, and Africa.
ENRICH in the USA is represented in the USA by Temple Small Business Development Center- Fox School of Business, based in Philadelphia, PA, and NCURA based in Washington, DC.
Maura Shenker, Director of the Temple University Small Business Development Center, said "Temple SBDC is proud to be supporting this incredible group of successful entrepreneurs from Europe participating at SXSW Online 2021, and we look forward to our strong collaboration with ENRICH in the USA to offer more transatlantic services and connections."
About Temple University, SBDC
The Pennsylvania Small Business Development Centers (SBDC) are the only statewide, nationally accredited program providing high quality, one-on-one consulting, training and information resources to empower new and existing businesses. The SBDC program is a public/private partnership with the US Small Business Administration, the Pennsylvania Department of Community and Economic Development and 16 universities and colleges across the Commonwealth. The Temple University SBDC is an outreach center of the Fox School of Business and Management at Temple University that has been serving Philadelphia and the surrounding communities since 1983. Our highly trained and experienced staff is here to provide startup and small businesses with professional knowledge and assistance. Our mission is to help small businesses grow and succeed.
Media contact:
Neal Levitt
Leavitt Communications
(760) 639-2900
neal@leavcom.com