East Coast - Mid Atlantic - Greater Washington D.C.
East Coast - Virginia
Smart City, Cyber Security
George Mason University (GMU) is a public research university in Fairfax County, Virginia. Established in 1957 as the Northern Virginia branch of the University of Virginia, it became an independent university in 1972 and has since grown to become the largest four-year public university in the Commonwealth of Virginia. The university is named for the Founding Father George Mason, a Virginia planter and politician who authored the Virginia Declaration of Rights that later influenced the future Bill of Rights of the United States Constitution. Mason operates four campuses in Virginia (Fairfax, Arlington, Front Royal, and Prince William), as well as a campus in South Korea.
The university is classified among "R1: Doctoral Universities – Very high research activity". It is particularly well known in the fields of economics and law and economics. Two George Mason economics professors have won the Nobel Memorial Prize in Economics: James M. Buchanan in 1986 and Vernon L. Smith in 2002.
Mason Enterprise Center (MEC) is a unique workspace for the community, it is a space for individuals and businesses to release their full potential, transform and achieve their goals. Collaborative atmosphere, strong camaraderie, and structured enterprise solutions to help you reach success. The Center is trying to grow the community through innovation: with flexible leases and fully-furnished workspaces, unique business programs, and one-on-one mentorship services for entrepreneurs of all experience levels, George Mason University business supports services, and more.
LOCATION
Adresses
4031 University Drive, Suite 100, Fairfax, VA 22030
AND
202 Church St. SE, Suite 100, Leesburg, VA 20175
AND
70 Main Street, Suites 21 and 23, Warrenton, VA 20186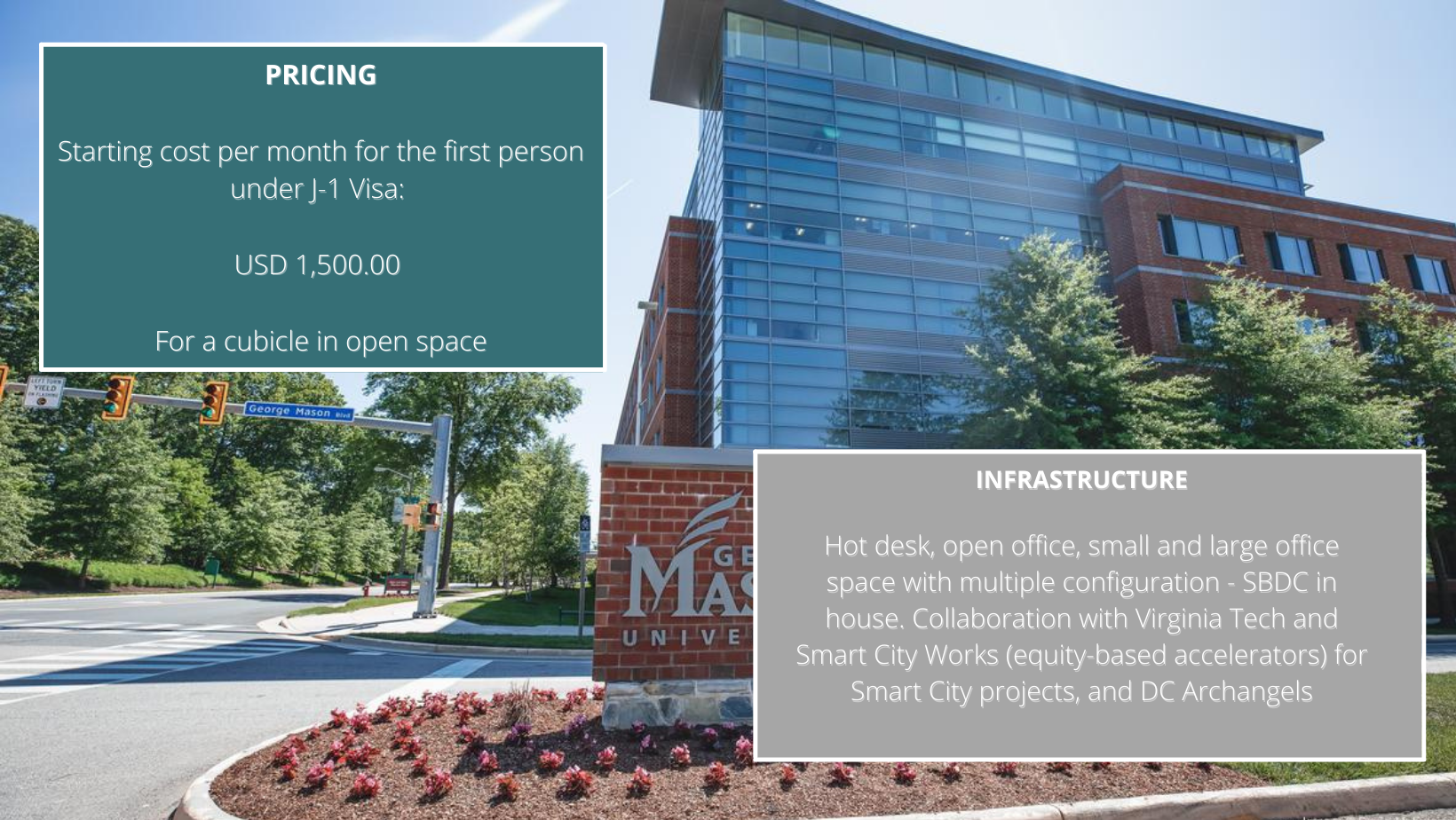 Who can apply and how long does the program last?
Tech Start-ups, or Innovative SMEs (patents granted or being granted), and Corporates can apply at any time. The program is designed to last from 18 to 24 months.
Application Criteria
The focus of this George Mason University Soft Landing program is on European - and from associated countries - entrepreneurs who want to develop a US venture. As long as there is the project of trying to launch a business in the Greater Washington D.C. Area - no requirement of legal entity is needed. 
Visa options
J-1 Intern (12 months) when available

J-1 Trainee (18 months) 

J-1 Long Term Scholar (1 to 2 years renewable for up to 5 years)
For more information about the J-1 Visa, please contact us.