Temple University - SBDC
East Coast - Mid Atlantic - Greater Philadelphia 
BioTech/MedTech/AgriFood
Temple University is a public research and higher education institution that was founded in 1884. Temple University has eight campuses, six in Pennsylvania including a hospital, one in Rome, Italy, and one in Tokyo, Japan. 
As a Carnegie  Classified  R1 "Doctoral  University  with Highest  Research  Activity''  institution,  and with a  total  operating  budget  of  $1.29B  (fiscal  year  2020),  Temple  University  runs  a  variety  of  research,  education,  and  commercialization  centers  and institutes. 
Temple University - Small Business Development Center (SBDC) is an outreach center of the Fox School of Business and Management at Temple University where the highly trained and experienced staff provides local and international entrepreneurs with professional knowledge and assistance. Its mission is to help pre-venture, startups, and SMEs grow and succeed locally and internationally. Since January 2021, Temple SBDC is the US lead and coordinator of the North American ENRICH in the USA network of Hubs and University-based Soft Landing incubators. 
 
LOCATIONS
Addresses:
1515 Market Street SBDC Incubator, 5th floor, Philadelphia, PA 19102
AND 
Temple University SBDC Incubator - Ambler Campus   
580 Meetinghouse Road, Ambler, PA 19002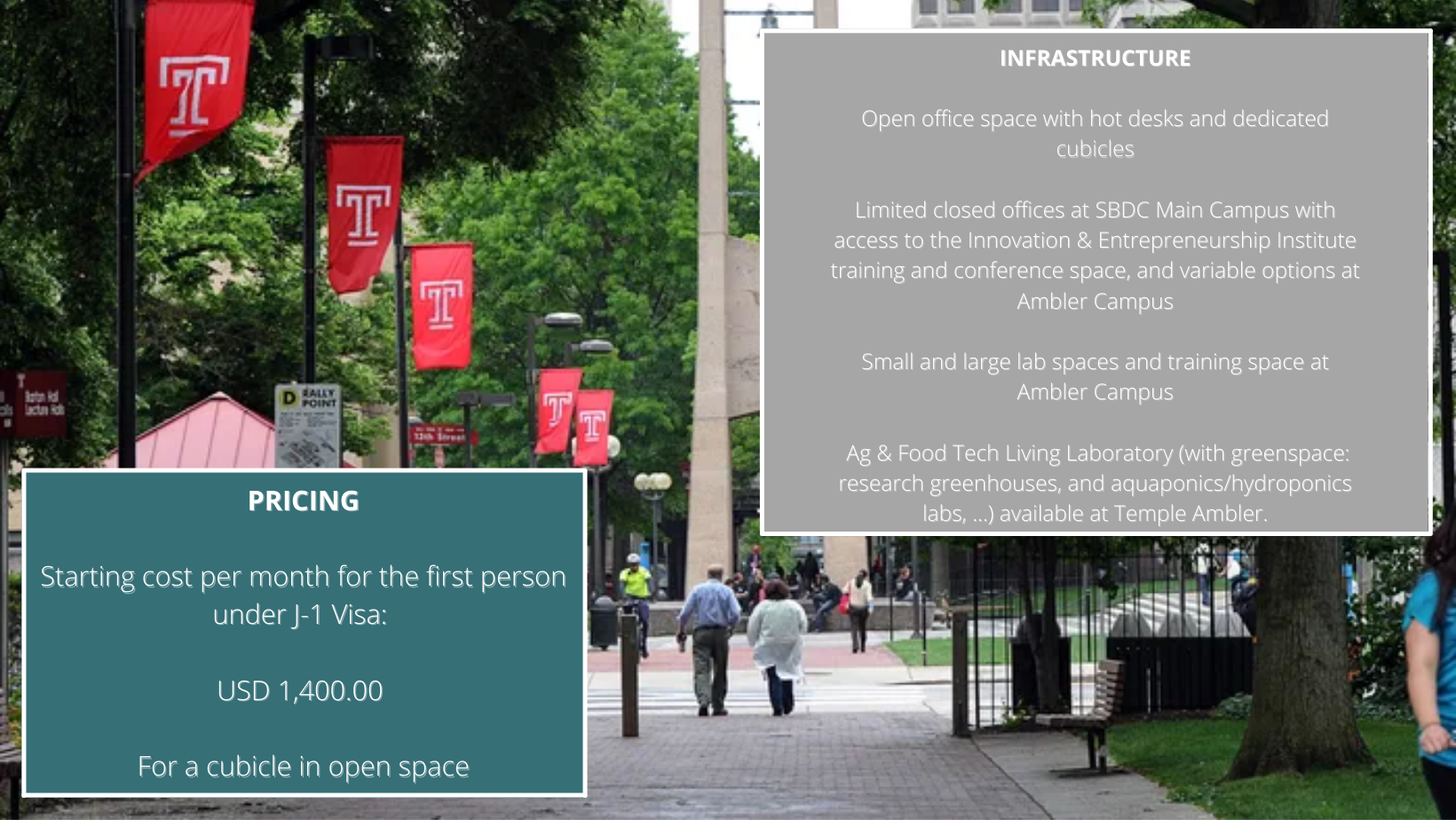 Who can apply and how long does the program last?
Everyone can apply at any time. The program is designed to last from 18 to 24 months. 
Application Criteria
The focus of this Temple SBDC Soft Landing program is on European - and from associated countries - entrepreneurs who want to develop a US venture. As long as there is a project of trying to launch a business in the Greater Philadelphia Area - no requirement of legal entity is needed. 
Visa options 
J-1 Intern (12 months) when available

J-1 Specialist (12 months)

J-1 Trainee (18 months) 

J-1 Long Term Scholar (1 to 2 years renewable for up to 5 years)
For more information about the J-1 Visa, please contact us.