US Innovation Market Guide on Production Technologies
Abstract
The US Innovation Market Guide on Production Technologies will guide you through the US key innovation ecosystem including innovation hubs and industry-related R&D centers. By understanding the ecosystem, you will be able to identify relevant US organizations and build synergies to develop next-generation production technologies.
The guide also allows you to get informed on the US market landscape related to production technologies including main market opportunities and barriers as well as the leading regions in the US. In addition, the guide enables you to grow your network of contacts by providing information on networking possibilities with associations and relevant events in the US.
This guide will also enable you to widen your knowledge on US funding opportunities coming from federal level including Manufacturing USA, Department of Commerce (DoC), Department of Defence (DoD) as well as National Science Foundation (NSF). The guide presents examples at state level as well.
So what are you waiting for? Click the link below and get an extensive guide for you to enter one of the global leaders in production technologies!
This guide was published in August 2018 and is available in English. It has 69 pages and 4 Annex pages.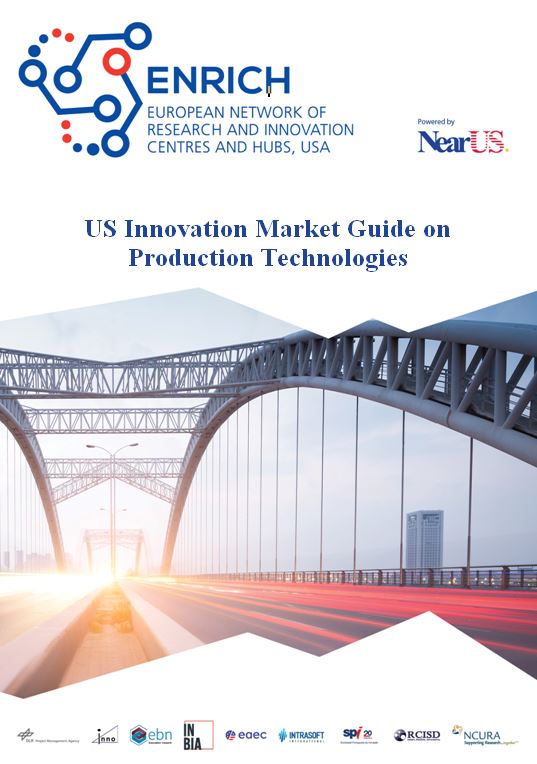 Table of Contents
List of Abbreviations (page 12)

In this section the list of Abrreviations used in this report are presented

1 Introduction (page 15)

This study, which has been developed in the context of the ENRICH in the USA network, aims to provide relevant information on the United States (US) landscape concerning the production technologies innovation ecosystem and market.

2 US innovation ecosystem (page 19)

2.1. Innovation Hubs (page 20)
2.2. Innovation facilitators (page 26)
2.3. Industry related RDI centers (page 29)

3 US market landscape (page 34)

3.1. Market overview (page 35)
3.2. Leading regions (page 35)
3.3. Market considerations (page 45)
   3.3.1. Opportunities (page 45)
   3.3.2. Barriers (page 46)

4 Recognized networks and events (page 48)

4.1. Innovation / market networks and associations (page 48)
4.2. Innovation and market events (page 53)

5 US innovation initiatives and programs (page 57)

5.1. Federal initiatives/programs (page 57)
   5.1.1. Manufacturing USA (page 58)
   5.1.2. Department of Commerce (DoC) (page 59)
   5.1.3. Department of Defense (DoD) (page 60)
   5.1.4. National Science Foundation (NSF) (page 61)
5.2. State initiatives/programs (page 66)
   5.2.1. Pennsylvania Manufacturing Initiative (page 66)
   5.2.2. Smarter Illinois Initiative (page 67)

6 Observations (page 68)

Annex 1: Summary of the US Federal and State Funding Initiatives and Programs (page 70)